So I am joining IA and Shawn....
Linking up with Talk to Us Tuesday...
But this is Wednesday.
I am a day late.
I know.
It's just how I have to roll sometimes.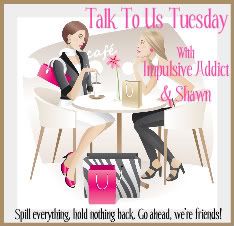 I don't have much going on right now.
Just work.
WORK.
And more WORK.
It's that time of year ya know.
The time that I go into hiding until April 15.
Booo
I will still be bringing you Tasty on a Thursday....
Yup that's tomorrow.
If you post a recipe any time this week...
Please share.
There will be a place to link up!
Easy stuff!
The weather has been wonderful.
70 degrees during December? Yup I'll take it.
But I know the cold/snow is going to hit hard.
I am ready.
Not really.
Just Dance 3
It's been a big hit at our place.
This Kobi and her Boyfriend....
We had just broken the game out of the wrapper....
He had never played before...
She lost.
The competitive side took over...
She didn't loose again.
LOL
While off on Christmas Break...
Kobi had time to be creative.
Not a good pic... but she does an awesome leopard print and can get pretty cool designs going.
I am not one for New Year's Resolutions....
BUT
I have decided....
I need to start drinking more alcohol water.
I even got an adorable glass to keep at work...
Hoping that would help.
LOL
I have got to stop drinking so much pop.
I was drinking at least 6-8 cans a day....
PLUS
If I grabbed lunch or breakfast out...
A cup full of pop got added in the mix.
Not to mention the occasional Big Gulps.
Do you make resolutions for the New Year?
If so...
How often do you actually follow through?