Here is a picture I took in my flower garden a couple months ago....
Found it while cleaning out my phone.
Dry weather = a ton of grasshoppers!
Remember back when I did my last give away??
I said that every 10 new followers I would do another?....until I reach 105 at least.
Guess what, only 1 more follower! So there will be a giveaway soon!
I have an idea on what I want to do, I just have to decide for sure.
Today I am joining Welcome Wednesday over at Take it From Me.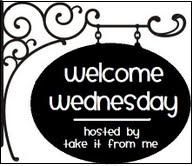 Yes, I have been doing some blog hopping lately....
I like making new bloggy friends.