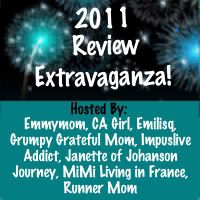 I do want to say BOOOOO!
The original post I saw said Wednesday was last day to link...
I thought I was good...
I went back to link and the new post
Well
It closed on Tuesday :(
Boo
OH WELL
I will review anyhow....
It is time for Week 2 of the 2011 Review....
Can we just foget May of last year?
PLEASE
I have friends who lost it all...
Love me some Chipotle Peppers...
And we had some REDNECK fun
Nothing much exciting....
OH, and YES
I did two posts today....
oppps