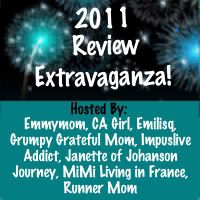 So Guess what...
It's time to Review 2011
Like Jan, Feb, & March!
You can do it too!
Just click the button and link up!
Evidently I thought that everyone needed to know more about ME during these 3 months...
I also posted LOTS of recipes.
Posting recipes is actually what got me started blogging.
I had many MANY requests for my recipes.
I cook alot....
Easier to share on the internet,
than to write it down
5 Bajillion times
I played along with the Cheer Up Swap....
Not gonna lie, Sorry but it SUCKED.
Not only was my package late...
Half the stuff was broken or messed up.
THEN my partner didn't even take the time
to blog about the great stuff she got.
I didn't want to embarrass her or call her out...
SO I smiled and made a NICE post.
My widdle
doggie woggie
got his fair share of attention in my blog....
I think everyone remembers the weather and the
SNOW
!
Man we got plenty.
I have to laugh at the picture I took from my office...
AND
I can never forget....
Now your turn...
Give us a recap
Then go link it up!!