It's talk to us Tuesday with Shawn and IA...
I am totally linking up!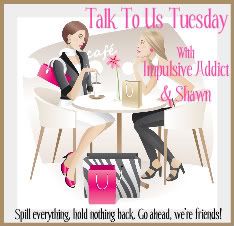 Last night was bowling...
NOT!
Drove all the way there to walk in and find out the league had been cancelled due to weather.
My team was there.
We ate...
Then we all bowled for free!
Yes I know... the pic sucks.
But HEY! I remembered to take one at least!
I am about done with weather.
It's OklafreakinHOma!
We had another earthquake last night.
My schanizzle is about to fizzle.
Within this year...
Within a 60 mile radius of our home...
We have endured one, if not more of the following:
Flooding
Last night alone I know we got over 6 inches of rain.
If I am getting more than 6 inches of something...
I don't want it to be rain.
WILD FIRES
NOW EARTHQUAKES?
We have relatives close to the epicenter...
Scary stuff!
We have only been shakin'... not stirred...
But for them...
It is the real SCHANIZZLE.
Then there is this....
She is my natural disaster within herself....
AHHHHH
SCHANIZZLE
So yes it has been intense this year.